March 5, 2019
Once we have decided to take a few days of vacation in Cuba, we think about what place we should visit. Whether we go to a warm place with beautiful beaches, a populous city or even a country town, we will always need good accommodations. Then, we will enjoy better the selected place. If you stay in casas particulares, a recommended option by many, you will see that each one has exceptional natures, either by its constructions,  locations, surroundings or the purpose for which they were created. You will find a lot of options.
We will abound in this article about some additional attributes of the casas particulares you will enjoy in Cuba.
Casas Particulares in Cuba: unique, authentic, genuine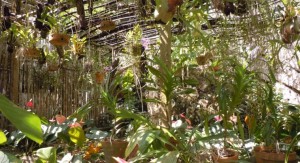 In the cities outside the capital, mainly, you will be able to find large gardens full of flowers and tropical plants. In Hospedaje Don Agapito in Soroa, the orchid garden and the abundance of space will make you feel in peace with nature. On Tripadvisor, @ ainhoad462, from Spain, said: "… it's the best lodging I've been ever. The location is the best in the whole town since you have the waterfall less than two minutes away and the orchid garden only 5. The house is beautiful, very well maintained, with a beautiful garden."
Villa las Flores, with its beautiful flower field and Casa Dra Maria Luisa, both in Viñales, are examples of vegetation either inside or around the house.
Patios, interior or not, will be present in many accommodations that you will find during your trip around the Island. In Amigos House's patio, in Varadero there is also a decorated fountain near which you can feel the sea breeze even in the hottest afternoons.
The patios decorated with tables and chairs are very common because breakfast and dinner are served there. Hostal Casa Lito, in the colonial city of Trinidad, is an example of these patios, especially to enjoy a refreshing drink or a good Cubita coffee in the morning. 
Interior patios were very common in colonial architectural styles. Hostal La Pergola in Santa Clara is an example of this: the patio there has a fountain and is surrounded by beautiful columns that form a pergola. This is really a beauty. On Tripadvisor, @854teresar expressed: "… the building is splendid, with a large colonial patio with plants, fountain and birds. The room was very good …"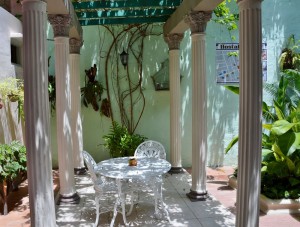 If you need a little more luxury, especially in the Cuban summer, you should visit Casa Amalia, in the coastal town of Cojímar, in Havana, and Rooms for Rent Esperanza, in Cienfuegos city. There you can spend incredible afternoons in their pools with a cocktail in one hand and a good book in the other, but of course, submerged completely in its warm waters.
Many of the casas particulares you can enjoy during your visit to Cuba have terraces, roofed or not, in which you can sunbathe, or enjoy a dinner, a delicious "mojito" or just read a good book. La Terraza de Prado in Havana is a delicious sample of what we're saying. You can also enjoy here a beautiful view of the city and the Paseo del Prado habanero.
In the coastal town of Gibara, Hostal Villa Boqueron offers a spectacular roof terrace with lounge and beach chairs where you can enjoy the intense Cuban sun. Another example of "solarium" is offered by Casa Mili y Orlando with much space for deck chairs under Varadero sky.
Many of these terraces are at the same time miradors. To enjoy the view of Viñales Valley, casa particular Villa Daniel y Estela, has specially built its terrace from which a magnificent view of the mountains is offered.

After staying in this casa particular, @Gaston1504 said on Tripadvisor: "… it was wonderful from many perspectives, the kindness and cordiality of the hostess and her family, the cleanliness of the facilities and the great breakfast on the beautiful terrace in front of the Mogotes. What for says more? I would recommend this Villa to any of my friends or to anyone who wants a great place… "
Owners of many casas particulares also stand out for the culinary art. This is why some of them have taken advantage of the "comings and goings" of guests to dinner and have incorporated a restaurant into the accommodation. The aforementioned Hostal La Pérgola offers the restaurant La Aldaba, and La Casona Jover offers a magnificent restaurant with the same name, both accommodations are located in Santa Clara city.
Final summary
In casas particulares in Cuba you will not only find a good air conditioned room and a comfortable bed to rest. There are other attributes that will complement your stay as pleasant as you wish. Open spaces, terraces, fountains, restaurants, in short, countless attributes that will make you return. For all this we recommend that you do not miss visiting Cuba on your next vacation, and when you do, stay in one of these wonderful casas particulares and you will discover why every day the number of visitors to our country increases.