February 23, 2019
Santiago de Cuba is located in the southeastern Cuban coast, facing Caribbean Sea. It is one of the hottest cities during almost all the year and the second in importance of Cuba. It was the capital of the Island in the past and has been the center of several transcendental events in Cuban history. It conserves a colonial architecture in several areas of the city, very similar to Old Havana. Its beauty is unparalleled and people there are friendly and cordial.
If you go by plane from Havana to Santiago de Cuba, you can see the coast and the imposing mountains. Even before landing you will be attracted by greenery. Recently, the entire area of ​​the bay was remodeled with a completely new boardwalk. There are many places and facilities for the enjoyment of visitors. You will be able to visit restaurants, cultural centers, in addition to the beautiful surrounding area and the peerless view of the sea.
There are a lot of Santiago de Cuba hotels but there are also are several casas particulares in Santiago. Architecture and presence vary according to location and age. Of course, in all of them you will get optimal conditions for your stay: excellent treatment from your hosts and staff and delicious traditional meals. If you look for a casa particular Santiago de Cuba offers a lot of them. In all of these accommodations you'll have private bathroom, and hot water all the time.
Santiago de Cuba hotels are very nice, yes, but casas particulares there offer so many additional services making your stay simply wonderful. If you want to be like home and know more about Cuban people, the best option will be staying in one of these casas particulares.
Walking on sunshine…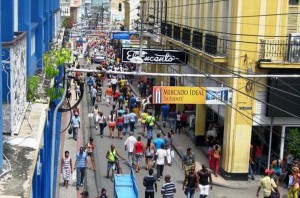 Walking down Enramadas street is a unique experience. There is a mixture of races: white, black, mestizo. In this street, vehicles are not allowed, and you can find shops, stores, cultural centers, cinemas, restaurants, parks, beautiful houses, and much more.
Another important street, this one staggered, is Padre Pico street, which is the starting point of the "comparsas" in the carnivals parades of the city. If it is your desire staying in cheap hotels Cuba has some in the countryside, others in the cities and even on the beaches, but in Santiago you will be able to rent  Casa Marcela y Manuel located in downtown. This casa particular has a mixture of colonial and modern architecture. Treatment and dinners they prepare are exquisite. All of this will make you happy, and you will return very soon.
Heredia street is one of the more animated at nights. That was the name of the so-called first Romantic Poet of America, José María Heredia, whose Casa Natal, nowadays a museum, is on the area. There is a new wonderful casa particular called Hostal Heredia located nearby others Santiago de Cuba hotels. It is a modern accommodation, very comfortable and, of course, with a privileged location.
Relevant places in Santiago
The main square of the city is Parque Céspedes, very busy and lively either day or night. It has much cultural, social and political life. The initiatives of all kinds happen day after day for the approval of visitors. Old musicians still perform daily several danzones, National  Cuban dance, to delight who listen to them.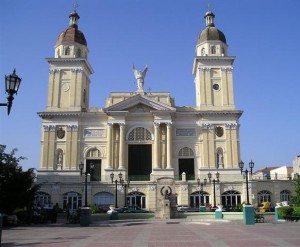 Cathedral of Santiago de Cuba is another of the emblematic sites of this city. Its architectural beauty is what most attracts tourists from everywhere. The two towers located on the sides of the main entrance and the celestial archangel with its outstretched wings show a predominant neoclassical style. Once inside you can admire what is believed to be the only evidence of arrival of Christopher Columbus on the Island, La Cruz de la Parra. Paintings and canvases inside are beautiful and captivating. Casa particular Colonial Tania is very close from this place.
Every visitor who delves into Cuban culture is immediately enchanted by its music and dance. Thousands of Cuban artists have transcended over the years internationally. That's why,  when visiting Santiago, you should go to La Casa de la Trova, a place where all music lovers meet, especially Cubans. Artists such as Eliades Ochoa, Compay Segundo (now deceased), or the Buena Vista Social Club project, just to mention some of them, have had presentations there many times.
Festivities
Santiago is a musical city par excellence. Various festivities or cultural activities are carried out systematically in this Caribbean city.
In the hot Santiago summer every year "Fiesta del Fuego" takes place, at the beginning of July. This is a very transcendental international cultural event. It includes exhibitions, popular crafts, plastic arts, among others. Days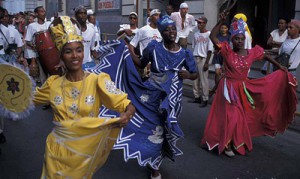 after the conclusion of this revelry, the very famous and awaited Carnavales Santiagueros begin, the best event of its kind celebrated on the Island according to many. Already from previous month begin the preparations for this party. For several days "congas" and "paseos" show their best clothes and steps. This party and the people of Santiago are just one, something indivisible. In October "Son" music is revitalized in this city. This genre emerged in Santiago and quickly spread to Havana and other cities; is interpreted by several orchestras of great quality at MatamoroSon Festival. It is a perennial tribute to Miguel Matamoros, the greatest exponent of this genre in Cuba.
Something beyond
La Caridad del Cobre is considered the Cuban Patroness. She has her own Sanctuary on the outskirts of the city, very close to copper mines where you can get from locals some "little copper stones" to "have good luck".
Another of the most visited sites is La Gran Piedra, place of an enviable natural beauty,  full of orchids and ferns, and with a natural mirador: a rock more than 1200 meters above sea level. The view from there is extraordinary.
Considerable natural beauties are also in Baconao Park, where in addition to its unique landscape, there is located a Science Museum and a Dolphinarium next to the Valley of Prehistory.
And…what about food?
There are many places to enjoy Cuban or international cuisine in Santiago de Cuba. Aurora Restaurant stands on the traditional Trinidad street, La Fabada de Marieta and La Karreta on the very popular Calle Enramadas, and the Padre Pico Terrace Restaurant, located on the street of the same name, from where you can enjoy a beautiful view of the mountains and the sea.
Naturally, in almost all the casas particulares they offer breakfast and meals at very affordable prices for the visitor. This is, of course, a wonderful option. Even with all the restaurants in the area, there's nothing like homemade food. Don´t you think?
Finally…
Santiago de Cuba is not only a hot city overlooking the Caribbean. It is also a city full of culture and history; full of people who will encourage you on your trip or help you if you ask for; full of people who will tell you the way to go to your destination, guiding you through the streets of the area; people that you will find in each casa particular you book will always be attentive of your needs; people like the one that abounds throughout the Island, but in Santiago multiplies and grows to make your trip unforgettable; people, simply, like Cuban.
And remember, in Santiago de Cuba hotels abound, but there are also a lot of nice casas particulares waiting for your arrival. So, visit this wonderful city, rejoice in the good choice you have made and you will not regret.