February 13, 2019
Every year thousands of tourists who come to Cuba visit its wonderful beaches, full of fine sands and clear waters. They also spend a few days in Havana, the capital, where the historical sites and the colonial architecture, attract and delight them. But Cuba has much more than beaches and cities; the fascinating nature of the Cuban mountainous landscapes is another great attraction.
Viñales, in Western province of Pinar del Río, is one of the most outstanding rural towns in Cuba in terms of attractiveness and diversity of options. Now, you will discover why.
Viñales Valley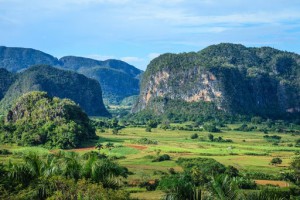 Viñales Valley, within Sierra de los Órganos, has a considerable extension with peculiar mounds well known as "mogotes" which stand out for their various shapes and sizes, and from a distance they seem to have been sculpted by hand. Inside these mogotes there are several grottos that can be visited, always with the expert guidance of locals. Towards any point in the area that you look at you will find an intense green without compare and an exclusive flora and fauna.
The town of Viñales was founded in the valley in 1875, about 110 miles from Havana city.It is a colorful village with high cultural development and very attractive constructions distinguishing this from other towns or cities of the Island.
This town was recognized as a National Monument in 1979 and 20 years later it was declared a Natural World Heritage Site by Unesco.
Accommodations in Viñales
There are three popular hotels in Viñales where you can stay:
Los Jazmines Hotel can be easily identified by its colonial architecture. You are able to admire one of the most beautiful views of the Valley from its mirador.
La Ermita Hotel, located on the top of a slope of this extraordinary environment, is a very beautiful building, which merges with the environment that surrounds it. It has very good views of the valley and the town. You can see around the plantations and vegas of tobacco tree.
Rancho de San Vicente Hotel was the first tourist hotel in Viñales. It is surrounded by small mogotes and beautiful tropical vegetation. The waters of the San Vicente River, nearby the hotel, are hypothermal and have mineral-medicinal properties.
In addition to these Viñales hotels, the number of casas particulares there is very remarkable. This is more than an additional option: casa particular Viñales, is the most popular and relevant option of accommodation in this town.
If you want to get a good casa particular Viñales could be a perfect place to spend your vacations. Casa Estrella y Celestino stands out for the careful guest service. The hosts try hard guests do not miss the opportunity to visit the main tourist attractions of the region. They also offer a Havana to Viñales day trip, for all kind of visitors.
Besides the mentioned Viñales hotels Cuba offers a great variety of casas particulares that could be considered as such, not because they are as big as hotels but because of the quality of their services. If you desire a specific casa particular Viñales has it for sure. Some of these accommodations are located in very central areas such as Casa Dra. Maria Luisa o Villa Aniesky,  the principals streets of town. However, Casa Randy & Dayne is not that close from downtown but it is very close to the mountains and its spectacular views.  Villa las Flores is an example of a rural house with beautiful wooden rooms and a field of flowers. It is away from the center but at the same time accessible by walking.
The houses with beautiful views of the mountains and the Valley are very popular. Sample of this type of accommodations is Villa Daniel y Estela with two tremendous terraces that at the same time are perfect miradors.
Some of the casas particulares mentioned before as Casa Dra. Maria Luisa, Villa Daniel y Estela and Villa Aniesky, stand out for their spacious rooms and comfort.
In all of the casas particulares of Viñales you can ask for breakfast or dinner and therefore you will benefit from the advantages and abundance of home cooking. You will receive an efficient and personalized service. You can take scheduled tours through the area and closely observe the vegetation, have contact with the local farmers and the most autochthonous traditions they still maintain.
Staying in casas particulares, with favorable prices, and surrounded by mogotes and beautiful tropical vegetation, will make your stay a wonderful experience.
Some places in Viñales that you should not miss
Among the countless tourist attractions in the area stand out, in addition to the Valley and its mogotes: the center of the town, the Mural de la Prehistoria, the Valley of Silence, the Cueva del Indio and Cueva de San Miguel, Valle del Palmarito, the Mirador del Cuajaní, Gran Caverna de Santo Tomás and Cayo Jutías. This last one is not in Viñales as such but has easy access.
Polo Montañez Cultural Center
Within this small town there is a lot of cultural and social life. If you want to go out and "move" at night and dance good Cuban music, even with local dancers, the Polo Montañez Cultural Center, very close to the central Plaza de Viñales, is the right place to do it.  This place is very welcoming and will be filled almost every night.
Plaza de Viñales
After an exhausting day of walking, you can refresh yourself with a local drink sitting in the square of the town and watching all around. You will see the church and vintage cars just from your seat. And of course, you will enjoy very much the live music that is played there.
Mural de la Prehistoria
This incredible work was created in 1959 by Leovigildo González, scientist and painter as well. It is located in the mogote called Pita, in the Sierra de los Órganos. This work was completely drawn on the rocks with a brush and represents the evolution of all living beings of this area of ​​Cuban geography, that's why it is called like that, not because it was made in that remote period. It is, by far, one of the most colossal open-air pictorial works of the entire planet. It measures 120 meters long and 160 meters wide.
In the surroundings of this wonder, horseback riding is offered as part of this unique experience, as well as hiking to the top of the mogote, where the view will leave you breathless, at least for a few minutes.
Valley of Silence
Why it is called that way? Sit on a rock or in the shade of any bush for a few minutes and you will realize why. Many people go there as anti-stress therapy because of the immense quiet.
The sowing and cultivation of Cuban tobacco, one of the best in the world, will be appreciated there. If you like it, you can even taste a cigar just made by the hands of the best local farmers.
Cueva del Indio
Ancient dwelling of local indigenous people of yesteryear. This dark and silent cave is very popular with tourists, was rediscovered in 1920 of the last century, in a bend of the Valley.
Through this wonderful place runs a river which you can navigate if you are bold enough, and this way you will not miss any detail of this natural Cuban wonder. In addition, you can  enjoy and acquire many crafts and souvenirs sold there, as well as having a delicious lunch in one of the local restaurants.
Cave of San Miguel
This small cave is located in San Vicente Valley.
When entering you will be completely amazed by the beauty and magnificence of this cave and you will feel engulfed by his greatness. When you go out, on the other side, your amazement will end and you can be relieved by eating a delicious lunch at Palenque de los Cimarrones Restaurant, with great prestige in this area.
Mogote de Palmarito
Very close to La Ermita Hotel begins the way to this beautiful natural place. View there is unbeatable with wide and green landscapes as in much of places of Viñales. You can discover various specimens of the local flora and fauna while breathing the purest air you will ever breathe. You will be able to have lunch with one of the local families and taste the local seasoning in their own house.
Mirador del Cuajaní
Departing from Los Jazmines Hotel, the trip begins through the vegetation directly towards the mirador at the top of the hill, and on the way back you will pass through the tobacco plantations; a wonderful view that you have to admire very slowly.
Gran Caverna de Santo Tomás
It is the largest cave system in Cuba and the second largest in the entire American continent. It has several levels with more than 25 miles of galleries. Daylight does not reach there but during the tour you will carry lamps to admire its beauties. Bats, stalagmites and stalactites, underground pools, and the replica of an ancient Indian mural, are just a few samples of what you will find there.
Cayo Jutías
On the north coast of Pinar del Río province you will find Cayo Jutías. This key is located about 40 miles from Viñales and is linked to the island by a small "pedraplén", or dirt road on the sea, which you can cross with a vintage car if you wish.
There is a beach of blue waters and white sand, about a mile long and almost unexplored. In Cayo Jutías you will be able to take underwater photos, dive, ride aquatic bikes, and other activities that you will enjoy for sure.
Final summary
Year after year, Viñales is selected, worldwide, as one of the most desired destinations and requested by travelers, many of whom are staying in their casas particulares. Several relevant tourism agencies around the world, select this small town of Cuba over many others. AirBnB and Lonely Planet are the highest hierarchy that always bet on this beautiful place of Cuban Western.
Thus, the great lovers of natural environments feel in total harmony with nature while visiting this beautiful town, which, according to many, must be visited at least once a year.
Do not miss the opportunity to enjoy this beautiful natural landscape! Casas Particulares in Viñales will surely be the option that will complement the enjoyment of your trip.